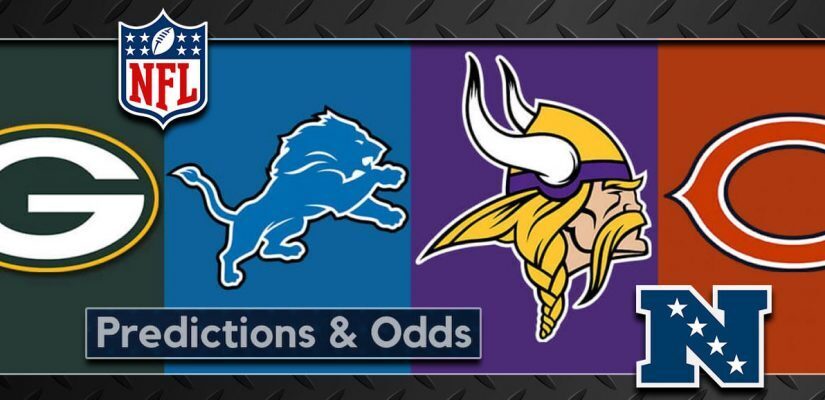 The Packers have won the NFC North in seven of the last 11 seasons, and unless the Vikings (+280 to win 2022 NFC North Division, MyBookie.ag) can really improve and the Packers lose a couple at Home, we'll see the Cheeseheads win once again.
Rinse. Repeat.
The 2022 NFL Regular Season will begin in just three short weeks now on Thursday, September 8, so this is the ideal time to handicap NFC North Division Betting Odds and get your Fantasy thoughts in order before everyone else figures out what's going on.
Rodgers and the Packers won the NFC North Division last season with a 13-4 record, but Green Bay was bounced in the NFC Divisional Playoffs round by the 49ers, 13-10, at Lambeau Field in the first and only loss for GB at Home all season.
The real skinny on the NFC North Division comes down to a handicap of starting QBs. Green Bay has future Hall of Famer Rodgers, Minnesota has Kirk Cousins (Michigan State), Chicago has Justin Fields (Ohio State) and Detroit has Jared Goff (California).
So, experience, Father Time, a strong Home Site, and the rest of the NFC North sort of being subpar all leads to the simple conclusion the Packers will win this again, make the NFC Playoffs with ease, but still possibly lose in the NFC Championship game to LA or TB.
#GoPackGo
The @packers have won the NFC North for the 7th time in the last 10 years! pic.twitter.com/3QtCYef94q
— FOX Sports: NFL (@NFLonFOX) December 14, 2020
NFC North Division Odds
Team
Odds
Green Bay Packers
-186
Minnesota Vikings
+280
Detroit Lions
+900
Chicago Bears
+1250
Last season, the Packers won this division by five games, with WR Justin Jefferson, RB Dalvin Cook and the Vikings (425 PF-426 PA) finishing below .500 and at 8-9 on the season. Minnesota's paltry 3-6 Road record being the reason the were a losing team.
The Bears (+1250 to win the NFC North Division) finished third in the Division and also had a 3-6 Road record and went just 3-5 at Home in Soldier Field in Chicago, a far cry from the franchise that once dominated games Defensively and had HOF RB Walter Payton. And the Lions went 3-13-1 and lived in the basement in the NFC North in 2021, being outscored by 142 points (325 PF-467 PA) and are still living in the vacuum created by Matthew Stafford's departure to Lalaland. QBs Jared Goff and Tim Boyle do not inspire.
And Detroit (+990 to win the NFC North Division) was a winless 0-8 on the Road last season, and no matter how much the Lions improve—they could finish ahead of the Vikings and Bears—not being able to generate Wins away from home is dangerous in all sports.
So fade Detroit?
It will be a matter of picking the right spots on the schedule, but this team allowed the most Points in the NFC North (467), was just 3-5 at Home, had a -4 TO Margin (19 Takeaways, 23 Giveaways), and just aren't a deep or confident team yet, someday. Like the Vikings and the Bears, the Lions will be (patiently?) waiting for two things to happen sometime in the hopefully near-future: A good Quarterback to build their offense around, and the Packers legend Aaron Rodgers to finally retire from the NFL.
At the top sites to bet on the NFL, the NFC North Division Betting odds have been up, so let's take a look at the odds from progressive and extremely underrated online sportsbook MyBookie, analyze and make some NFC North Division predictions for you wise readers.
QB convos #PackersCamp ✖️ #SaintsCamp pic.twitter.com/jgUPFHn9rS
— Green Bay Packers (@packers) August 17, 2022
Green Bay Packers -290
The Cheeseheads saw star WR Davante Adams head to Sin City and the Raiders in the Offseason, so QB Aaron Rodgers lost his favorite target and Green Bay (-186 to win NFC North Division, MyBookie.ag) lost its most productive player getting the ball up field.
In an interview on Tuesday, August 16th, Rodgers (+990 to win 2022 NFL MVP) sounded frustrated with his new and young receiving corps after the Preseason opener, saying he felt sorry for backup QB Jordan Love because of the dropped balls, missed routes, and mental laziness.
But a Preseason 28-21 loss to the 49ers isn't the end of the world, and the Packers (+430 to win the 2022 NFC) sleep in the same Midwestern bedroom as the Vikings, Bears, and Lions, so this team should be alright, although losing Adams is a green and gold vacuum.
The key skill position players in Brown County now are RB Aaron Jones (799 yards), RB AJ Dillon, WR Allen Lazard, and WR Sammy Watkins, so this team could use another guy as WR Marquez Valdes-Scantling was snatched up by the Chiefs in Free Agency.
Things won't be the same Offensively in America's Dairyland, but hey, Mr. Rodgers is staying in the Cheese Curd Neighborhood so all is good because the Vikings, Bears, and Lions seem to all be in a constant rebuilding mode this decade. And Life goes on…
The Packers defense should be improved with the addition of top draft pick LB Quay Walker (Georgia), who has a chance to be the 2022 Defensive Rookie of the Year (+900) after playing for the 2021 NCAA national champion Bulldogs last year.
Green Bay's schedule shouldn't stress them too much, with six divisional games against Chicago, Detroit, and Minnesota, and the friendly confines of Lambeau Field (Grass) still provides one of the best Homefield Advantages in the NFL and GB was 8-0 there in 2021.
Week 1 sees the Cheeseheads (39-10 SU L3 years) at Minnesota in a huge NFC North opener (FOX, 4:25 ET/1:25 PT; GB -2½, 48) followed by their Home Opener against the Bears on Sunday Night Football in one of the NFL's great rivalries (NBC, 8:20 ET/5:20 PT). In Week 3, it's a can't miss matchup between Old Men Rodgers (38) and the Buccaneers Tom Brady (45) when Tampa Bay plays its Home opener on Sunday, September 25 at Raymond James Stadium (Tifway 419 Bermuda Grass) in Tampa ((FOX, 4:25 ET/1:25 PT).
So making the NFL Postseason in the weaker NFC seems a forgone conclusion for this team, even with Adams gone, and odds are General Manager Brian Gutekunst and Head Coach Matt LeFleur decide to bring in another WR or two for Rodgers and the Offense.
Like almost every season of late:
NFC North Division Odds likely won't change much, so if you want to back the Pack, now is the time to do so as the -186 we see hanging at MyBookie.ag will like rise after the 2021-2 NFL Regular Season kicks off in three weeks. The toughest patch on the 2022 Packers schedule starts in Week 8 when Green Bay is in Buffalo to face the Bills, with Weeks 10 and 11 seeing the Cowboys and Titans coming to Lambeau followed by a Week 12 game in Philly and Week 14 game vs the SB champ Rams.
We'll all be surprised if Green Bay (13 TO Margin) doesn't win the NFC North Division, so embrace logic, eliminate the teams that won't win it, and you can see the Vikings will likely have to have a near-perfect season to overtake this team in this Black-and Blue division.
.@finessinxv called game #VikingsCamp pic.twitter.com/GeClYEdC2u
— Minnesota Vikings (@Vikings) August 18, 2022
Minnesota Vikings +280
QB Kirk Cousins never helped Washington much, so now he is in the Land Of 10,000 Lakes and one mediocre NFL team getting chirped at by a new Head Coach (Kevin O'Connel) and he has returned to the Purple Training Camp after a bout with COVID-19.
The two backup QBs in Minnesota (38/1 to win Super Bowl LVII) behind starter Cousins are Sean Mannion (Oregon State) and Kellen Mond (Texas A&M), so don't be surprised if we see O'Connell giving Mannion a chance to start if Cousins can't get the job done.
The Week 1 opener against the Packers at Home at US Bank Stadium (12345) in Minneapolis on Sunday, September 11 will be huge (FOX, 4:25 ET/1:25 PT), and if the Vikings (17/1 to win the NFC) can pull off the small upset (GB -2½) then they'll have Hope.
And sometimes Hope is the most important thing in the world.
Minnesota has two very productive skill guys in RB Dalvin Cook (1,159 yards) and WR Justin Jefferson (1,616 yards 10 TDs), but this isn't Fantasy football, this is Sports Betting and who covers Point Spreads and who can win bettors money in Futures markets.
The Vikes should have hope though, as Cousins might not be as bad as we all pretend, he is. With WR Adam Thielen (10 TDs) and WR KJ Osborn, Cousins has some options but TE Tyler Conklin is gone and will now be catching footballs for the J-E-T-S Jets! Jets Jets!
Another positive is the Viking D, which had a sweet +11 TO Margin but still ended with a -1 PD (425 PF-426 PA) after the 2021-22 NFL Regular Season, so improvements will still need to be made on that side of the ball. Good teams don't get outscored over 17 games.
WOW?
Former #Vikings Head Coach Mike Zimmer speaks on his incident with QB Kirk Cousins after the week 4 #Lions matchup.?
What was going on in Minnesota?? pic.twitter.com/JMGlGXVU3v
— NFC North News (@NFCNorthNewss) July 26, 2022
Detroit Lions +900
Oddsmakers have the Lions (50/1 to win the NFC) ahead of the Bears in the NFC North Division betting odds, but that's like saying Nickelback beat out Weezer in the Battle of the Bands. Sucky is sucky and bad is bad and the two went a combined 9-24-1 last year.
The Packers won more games last season than the Lions and the Bears combined and had 4 games left to tip their waiter and go out and buy a big bag of Wisconsin Cheese Curds and a case of Old Style® for the next day. It's good to be King but bad not to be.
Detroit (120/1 to win Super Bowl XI) has a real issue to deal with in being able to win on the Road, and after an 0-8 mark away from the Motor City last season, the Lions now have to find a way to go into stadiums and not have their opponents assume it's a sure "W."
Surprisingly:
Detroit's schedule doesn't look that bad with milktoast NFC East sides Philadelphia and Washington heading to Motown in two winnable games followed by a trip to Minneapolis in Week 3 and their first NFC North Division game of the new season.
Week 4 sees the Lions hosting a beat-able Seattle squad, while Week 5 sees RB D'Andre Swift and Detroit head to Foxboro to face a rebuilding Pats side, without Revolutionary Paul Revere who fell off of his crazy horse on the way to New England's Training Camp.
After a Bye in Week 6, the Lions will be at Dallas and then host Miami in Week 7, so this team could be 4-3, 2-5, or 0-7 after its first seven games depending on Luck, how well Goff plays and if this team can finally find a way to win on the road.
The Lions were 4-4 on the Road in the 2020-21 Regular Season, so they need to remember that. But Detroit allowed 142 more points than it scored and will have to be better defensively as the 467 PA was the highest in the weaker-than-expected division.
Top marks for @aidanhutch97 pic.twitter.com/nMSkuDW8Kr
— Detroit Lions (@Lions) August 15, 2022
Chicago Bears +1250
In honor of Journalistic Blog integrity, it must be known that growing up in Chicago, I must confess that I am a Bears fan. But not an emotional one who only sees the good in his team and not the bad. Quite the contrary. I am as damn cynical as ants are small, brother.
The Bears (130/1 to win Super Bowl LVII) seem to be in a two-decade rebuilding mode, and are letting QB Justin Fields (Ohio State) theoretically lead this franchise back to some prominence, but it's hard to see Chicago being better than the Vikings or their rivals, GB. And with Trevor Siemian (Northwestern) and Natahan Petereman (Pitt) as backups, it's hard to get excited in the windy City. Where is Sid Luckman, Bill Wade, and Jim McMahon when you need them? Dead, dead, and retired. Someone call McMahon please.
In the offseason, Chicago saw its best WR, Allen Robison II, leave via Free agency, so the best skill guys in Pizzatown are now RB David Montgomery (844 yards), WR Darnell Moonney (1,088 yards), and TE Cole Kmet (612 yards). Da Bears could use a guy or two.
NFC North Division odds see the Bears below the Lions despite Chicago having a better record than Detroit last season, so oddsmakers have baked into the cake thoughts the Lions could be improved some and I agree, but we will all still have to just wait and see.
Chicago was weak on the Road (3-6), were outscored by 96 points (311 PF-407 PA),a nd had a pathetic -13 R) margin, so this is a team that will have to play better on both sides of the ball and might be in a position of even devolving more should Fields disappoint.
The Bears (54/1 to win NFC North Division) took two DBs in Round 2 of the 2021 NFL Draft, adding CB Kyler Gordon (Penn State) and Safety Jaquan Brisker (Washington), so Defensive Coordinator Alan Williams has some parts to work with but will need Time. The schedule won't be fun for Chicago, which opens up with the 49ers coming to Soldier Field (Kentucky Bluegrass) on Sunday, September 11 (FOX, 1 pm ET/10 am PT) in a tough spot for San Francisco, traveling 2,217 miles and two Time Zones ahead (CDT vs PDT).
In Week 2, Fields and the Bears head north to Lambeau Field to face Rodgers and the Packers for one of the great rivalries in the NFL, and for me, even without stud WR Adams, this seems like a really great betting spot to take the Home team and lay the lumber.
Why?
Because the Cheeseheads have gone 12-2 SU and 10-4 in their last 14 games at Lambeau Field against the Hibernators, and Rodgers and Green Bay finished with a 12-6 ATS record last year (67%), second only behind the Dallas Cowboys who went 13-5 ATS.
So remember to back the Defensively better Packers ATS in Week 2 when they play Chicago in Green Bay as well as backing them in the return leg to Chicago in Week 13 (FOX, 1 pm ET/10 am PT). The Bears just can't beat (or cover) against the Packers.
Roquan Smith checkin' in at No. 84 in the #NFLTop100 ? pic.twitter.com/MjefQ6aJeI
— Chicago Bears (@ChicagoBears) August 15, 2022
NFC North Division Prediction
The NFC North Division may have some drama if the Purple People Eaters can grate the Cheeseheads in Week 1 in Princeville—and they certainly can—but if Green Bay goes in there and wins easily, this division may be the same as it ever was: Black-and Blue bor-ing.
Online betting sites have the Packers lined at -186 to win the division, so this may be the best-perceived value we see, especially if the Cheeseheads win in week 1 because Minnesota probably isn't winning in Green Bay where the Packers went undefeated.
The NFC North Division betting odds may seemingly offer up no Futures play, but there's nothing wrong in locking in on Rodgers and Green Bay and putting a Futures wager in your betting portfolio in August to potentially cash in when January finally rolls around.
Please Note:
The NFC North Division Odds appear to be very accurate, as losing Adams is a blow but Green Bay is obviously still the team to beat here and the other three teams know it. The same can't be said for the AFC North, AFC West, AFC South, and NFC East divisions. Reputable online sportsbook BetOnline offers up a fun NFC North Division Betting Odds Prop, "Will the Green Bay Packers Win the NFC North Division" (Yes -175, No +135), so if you want to back the Pack in the Division Winner market, this is a better price by 11 cents.
Shopping around for the best odds is wise and you see different ways of approaching the same wager you want to make available through some of these creative Props markets, For me, the NFC North will come down to how good the Vikings and Cousins will play.
NFL Bet:
Green Bay Packers Win the NFC North